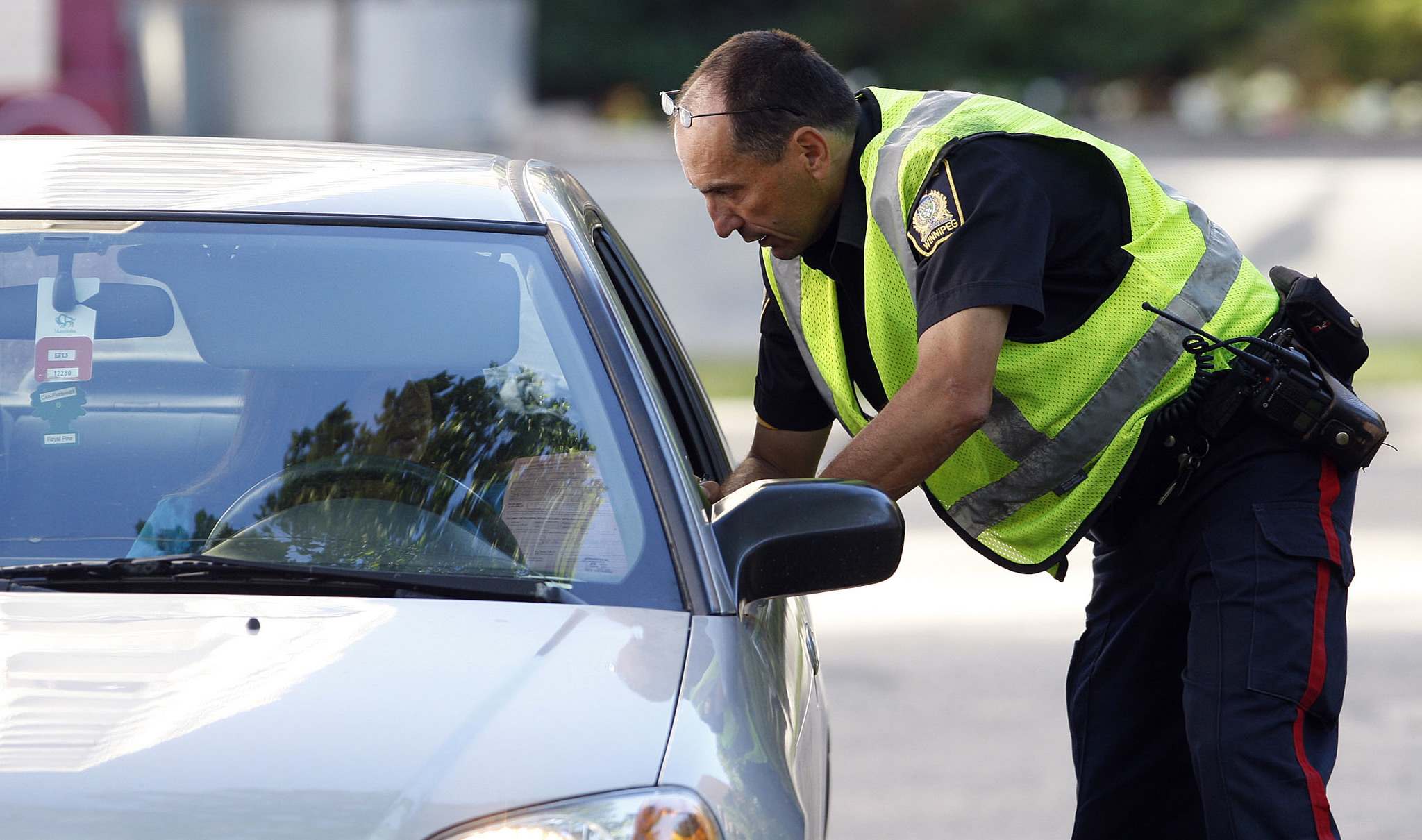 By: Curt Pankratz
Posted: 03/21/2019 4:00 AM
|
WINNIPEG FREE PRESS FILES
With fines of
$300
to
$700
for traffic infractions, enforcement in Winnipeg generates
$4
million per month in revenue.
Manitobans generally do not see traffic enforcement as a serious legal issue, and we're losing our rights because of it.
Enforcement in Winnipeg generates
$4
million per month in revenue. Such revenue generation depends on Manitobans to see traffic violations as simple matters. Simplistic publicity campaigns reinforce this belief by, for example, telling drivers to "just slow down."
But traffic is a serious issue. It is a leading cause of injury and death, and depending on how it's done, enforcement can increase or decrease safety.
Traffic infractions are no small matter, either. Manitoba has the highest traffic fines in Canada, and typical fines of
$300
to
$700
constitute a considerable expense to most people. It's not acceptable to say "just slow down" because Winnipeg violates nearly every national engineering standard for traffic signage, amber light timing and speed limits, and has 173 missing school-zone signs that it refuses to replace.
In this context, predatory enforcement can accumulate astonishing revenue because it can ticket people who are driving safely. The challenge for revenue-hungry police and government is that when large fines are given to thousands of reasonable drivers, there will be a lot of court challenges.
In Manitoba, three main strategies have been adopted to deal with this, and they are costing Manitobans their rights.
First, Manitobans have lost their right to be tried before a judge and to choose a representative. In 2006, the province created the Judicial Justice of the Peace (JJP) program. It hired several people and anointed them with judicial powers to preside in traffic court. The idea was to reduce the burden on provincial judges.
However, JJPs do not require legal training and some are related to police officials or have historical connections with the Crown's office. Importantly, JJPs have been more likely than judges to rule in favour of the Crown on key issues, even when evidence and submissions are the same. The Crown has therefore often sought to kick critical cases from judges to JJPs.
Court transcripts also identify a range of legal misapplications by some JJPs, such as disregarding precedent, subjecting representatives to involuntary bag searches and preventing arguments from the defence.
JJPs have also been essential to the recent efforts of the prosecution to restrict the accused's right to appoint another person to represent them. This right is spelled out in the Provincial Offences Act, as well as on the back of each ticket. Although the ticket also states that a representative may be excluded based on the justice's "opinion," in the law there is a much higher standard for excluding a representative than the ticket suggests.
Nevertheless, court transcripts indicate that the prosecution often moves to block representatives who win cases, and such motions have only been successful when a JJP is presiding rather than a judge.
Second, in 2015 the province initiated what it calls the "pre-plea triage program." Its roots are problematic from the get-go because it is based on an exclusive partnership between Prosecution Services and the courts, which are supposed to be independent of one another.
This program requires anyone who wants to challenge their ticket to go to 373 Broadway in person. Once there, they are required to go through a series of lineups and meetings before they can request a trial date.
It is a violation of the law to require this process. The law gives the accused the right to request a trial from the courts without these steps. The program is designed to whisk thousands of drivers through, offering fine reductions if necessary but avoiding legal entanglements associated with predatory enforcement and traffic engineering deficiencies.
The third strategy is the transformation of the law itself. Under the law, which was adopted in November 2017, several key rights have been eliminated. First, the court now uses "certificate evidence." This is where the accusing officer certifies their version of events and submits the certificate to the court. The content of the certificate is taken as proof until the accused proves their innocence.
This is tied to a second problem, which is that the officer no longer attends the trial, and the accused no longer has the right to cross-examine them. By contrast, the prosecution has the right to cross-examine the testimony of the accused, as well as any witnesses they produce.
Finally, the law eliminates the right to appeal decisions made in traffic court. Appeals now require permission from the court, and you cannot appeal the facts as interpreted by the presiding judge or JJP.
Further exploitative polices are being planned, and if Manitobans continue to see traffic enforcement as a minor legal issue, our rights will continue to erode.
Curt Pankratz is associate professor in the department of sociology at the University of Winnipeg.